Investing in cryptocurrencies and crypto-tokens can contain a lot of risks. For beginners in cryptocurrencies, crypto-tokens are cryptocurrencies that are created on the blockchain of an existing main cryptocurrency. For example, many crypto assets are created from the Binance Smart Chain, the blockchain of the Binance cryptocurrency (BNB). These crypto-assets are part of the DeFi market.
There are new tokens coming out every day and some are very interesting in terms of investment. As they are launched, those tend to make X100 or X1000 minimum very quickly and therefore can be very profitable. The investment in the DeFi is thus very relevant and can prove to be very fruitful. However, DeFi can be very risky, many scams can happen. Fortunately, the StaySAFU platform exists.
StaySAFU is The most advanced tool to invest in DeFi Safely
StaySAFU is the perfect tool for crypto investors who want to secure their investments, discover safe projects, minimize their risks and avoid DeFi scams. The platform has 6 months of existence and reaches 1.28M monthly visitors and nearly 200 000 uses of its scanner every day.
The platform has developed a Crypto Scanner that allows you to evaluate in a matter of seconds the possibilities that have owners of a token to scam you through a study of its liquidity, its smart-contract code, its holders, and numerous other factors.
For example, scanning the $SAFU token, you can now know:
If it's honeypot or no
The buy fees/sell fees
The disable trading informations
The RUG PULL SAFETY data (Liquidity, Top 5 Holders, Unlock Informations..)
The mint informations
The holders informations
And many other things
Test the bot from your side HERE
The platform has developed a Crypto Ape Board that allows you to identify new tokens that have just been launched in real-time and to filter them by safety (and by several other parameters).
The platform is free but has recently launched a premium version with many benefits.
Discover the new StaySAFU Premium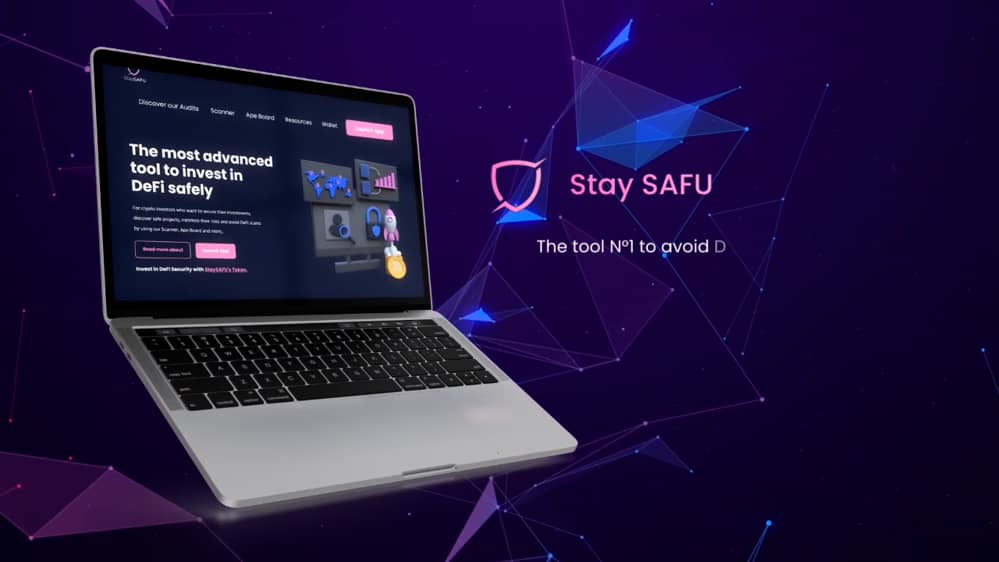 With StaySAFU Premium, you can have access to the complete details of the Scan and APE Board results, very relevant details such as if the liquidity of a token is blocked (if the creator can withdraw the funds), if so for how long if there are any risks, etc.
StaySAFU Premium also gives you two new features
‍SAFU Data
StaySAFU tools are used tens of thousands of times every day and are integrated by tens of partners with millions of monthly users. This allows us to quickly identify the trends before any price movement.

This data is pure gold, that's why we decided to give access to it to our premium holders only.
SAFU Classroom
StaySAFU tool is extremely useful, saving time on the purely technical analysis of the project. However, to ensure a lower risk of scamming, it is relevant to do a deeper analysis of the projects and their teams.
‍
The SAFU Classroom offers to premium users 8 high-quality video tutorials to understand our tools and learn how to detect scams by yourself.
StaySAFU reliability
StaySAFU is 100% reliable in its technical analysis since it displays information that is directly read on the observed contract and therefore it relates facts.
StaySAFU does not however predict scam 100% because a contract that has little chance of being a scam or that is not built to be a scam can still turn out to be a scam if the creative team decides to make it a scam…
That's why it's important to do a logical and team analysis in addition to using the StaySAFU tool (which is more of technical analysis).
StaySAFU premium offers a course version that teaches you how to spot Scam beyond the use of the StaySAFU tool.
StaySAFU Price
StaySAFU is free for its limited use, this free version allows you to use mainly the tool. If you want to have the full details of a scan such as the exact buy/sell fees, the liquidity locked or not, and for how long or the percentage of top 5 holders, you can pay to get the full scan.
The price for a full scan is $1.95 per scan.

You can also take the StaySAFU Premium subscription for 150USD/month which gives you unlimited access to all the features of the tool as well as two new premium features before, StaySAFU Data and StaySAFU Data.
StaySAFU Data and StaySAFU ClassRoom.
The $SAFU TOKEN
StaySAFU has its own token, the StaySAFU ($SAFU), which is essential to the functioning of the StaySAFU ecosystem. It is a pillar of the platform. By owning $SAFU, you have access to the tool at a lower cost and even for free for those who own the most SAFU.